| | | |
| --- | --- | --- |
| | | |
| Yawatahama's Hizuchi Elementary School & Masatsune Matsumura on display at Gallery A4 in Toyocho, Tokyo. | | Hizuchi students contributed their own drawings of the school for the exhibition, with a life-size photo of the school interior beyond. |
Yawatahama's Hizuchi Elementary School & Masatsune Matsumura is an exhibition of a prolific, but not widely known, architect and his most celebrated project. The show is running through June 3 at the aptly named Gallery A4 (pronounced A-Quad), a four-room exhibit space located on the lobby level of Takenaka Corporation's Tokyo headquarters in Toyocho, Koto-ku. The in-house gallery is open to the public during regular business hours. On display is a collection of models, drawings, large-scale photographs, videos, original building components, and furniture from Matsumura's architectural works.

| | | |
| --- | --- | --- |
| | | |
| This exhibit of Matsumura's work includes wall-sized photographs, drawings, video, the architect's sketchbooks, and even his calligraphy. | | An engaging video of Matsumura giving a lecture plays in front of his section drawing of Hizuchi Elementary School, blown up nearly to full-scale. |
Born in 1913 in Ehime Prefecture, Matsumura trained at Musashi Advanced Technical School (now Tokyo City University) and had early work experience in the Tokyo office of Tsuchiura Kameki Architectural Design. In 1939, the firm relocated to Manchuria to help in the community planning effort for Japan's Agricultural Land Development Authority. Following the war, Matsumura returned to Ehime and for the next 13 years worked as a civil servant at the Architecture and Engineering Division of Yawatahama City. In 1960, Matsumura was recognized as one of the top ten architects in Japan by the influential publication Bungei Shunju (along with Togo Murano, Kunio Maekawa and Kenzo Tange). That same year he established his own firm in Matsuyama City and continued to practice there until his death in 1993. His long career produced nearly 400 works of varying scales -- mostly schools, hospitals and other civic-oriented structures. He designed spaces meant to accommodate their occupants, whether children, teachers, patients or doctors.

| | | |
| --- | --- | --- |
| | | |
| A replica of the custom-crafted glass and wood wall units used in the library at Hizuchi Elementary School. | | In the postwar era electric lighting for classrooms was a luxury most remote schools couldn't afford. Matsumura's ingenious section allows each classroom to be day-lit from two sides: a light well separates the genkan vestibule and circulation corridor (right) from the classrooms (left), which are then accessed by bridges that cross through the light well. |
Hizuchi Elementary School is located in the mountainous area north of Yawatahama along the Kikigawa river. Completed in 1958, it originally consisted of two buildings with a total of eight classrooms. The primarily wooden structure has a simple, linear parti but a sophisticated cross-section. In postwar Japan, electric lighting for classrooms was a luxury most remote schools couldn't afford. Matsumura cleverly figured out how each classroom could be day-lit from two sides by creating a void that serves as a light well between the classrooms and the circulation corridor.

An elegant structural model of the school further illustrates Matsumura's economy of means through the use of regular, small-section components. Timber framing units with steel rod x-braces are assembled to provide lateral resistance for the structure. This effectively turns the riverside facade into a curtain wall, allowing it to be as open as possible and maximizing views of the river. These thoughtful touches are not only resourceful but prove deeply meaningful to the end-users -- in this case, students and teachers. In architectural exhibits and publications, often the buildings are documented without people in them. Yawatahama's Hizuchi Elementary School & Masatsune Matsumura is refreshingly focused on the occupants' experience. Mounted throughout the show are several floor-to-ceiling photos of students enjoying their school. The students also contributed their own drawings of the school, which are displayed together as a montage.

In 1999, Hizuchi Elementary School was selected as one of the top 20 most representative modern Japanese buildings by DOCOMOMO Japan, an organization dedicated to documenting and preserving modern architecture. It is the first postwar wooden structure to be specifically designated a cultural asset. In 2004 a typhoon damaged a portion of the east building, instigating a debate over whether to preserve the school or to tear it down and rebuild. Ultimately, and in part thanks to the special recognition it had received, the community decided to restore the school. An attempt was made to provide the necessary quake resistance and structural upgrades while maintaining the building's functionality, all without reducing its cultural value. In the spring of 2009 an annex was added and the refurbishment work was complete.

Although Matsumura would likely be categorized as a modernist, his work embodies a resourcefulness and human touch not necessarily shared by his heroically-inclined, Corbusian contemporaries. In the accompanying annotations of the exhibit he is quoted as saying, "Architecture is merely a container after all, and that is okay."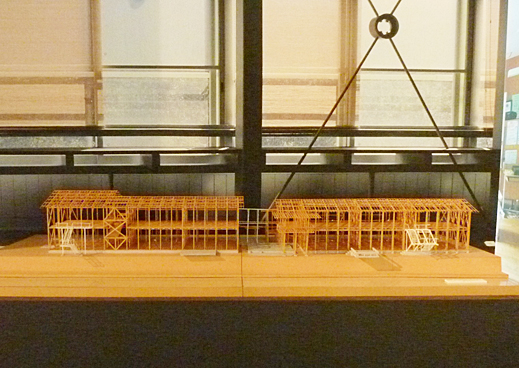 This elegant structural model illustrates an economy of means through Matsumura's use of regular, small-section components.
All photos by Nicolai Kruger with the permission of Gallery A4