Focus features two in-depth reviews each month of fine art, architecture and design exhibitions and events at art museums, galleries and alternative spaces around Japan. The contributors are non-Japanese art critics living in Japan.

This Is Nowhere: Shikoku Mura


Christopher Stephens
Thatched farmhouses at Shikoku Mura. (Photo: Katsuhiko Kodera)
Entry to the Shikoku Mura open-air museum starts with an adventure. A sagging vine bridge with as many gaps as there are planks sways under the weight of even the lightest traverser, threatening to slip below the surface of the murky water. On the other side, though, things seem different. A sloping trail leads into a dense forest and on into another world.
Located in Setonaikai National Park on the side of Mt. Yashima in Takamatsu, Kagawa Prefecture, the 50,000-square-meter site was created by Tatsuo Kato in 1976 to preserve local vernacular architecture. The 33 structures include traditional farmhouses, a lighthouse, and primitive industrial facilities that were once used to process three of the region's most important products -- sugar, salt, and cotton. All of the buildings were moved here from other parts of Shikoku, the smallest of Japan's four main islands, and date from the 17th to the early 20th centuries. But long before that, in 1185, this was where the Taira clan met a crushing defeat at the hands of Minamoto no Yoshitsune and his troops, as recounted in the military epic Tale of the Heike.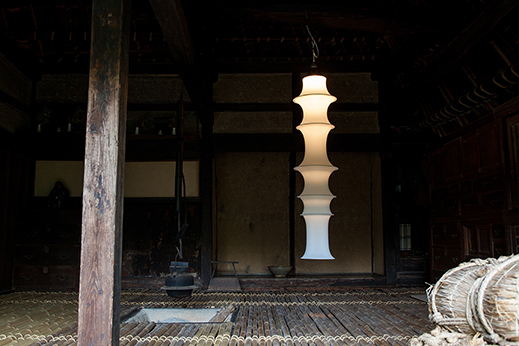 Yukio Fujimoto adds Bruno Munari's Falkland light to a traditional interior with bamboo floor. (Photo: Shintaro Miyawaki)
The museum's most recent addition, Shikoku Mura Gallery, was designed by the architect Tadao Ando in 2002 to showcase art from Kato's private collection, including ancient sculptures from Japan, China, and Iran, and modern European paintings by Pierre Bonnard and Renoir. Though somewhat out of place in this otherwise rural environment (signs warn visitors to beware of snakes and wild boar), the gallery expands the scope of the museum and broadens its appeal.
In a further effort to update its image, Shikoku Mura is currently presenting a two-part exhibition called This Is Nowhere, a reference to William Morris's vision of a Utopian society. In the first part, "Spontaneous Form," Yukio Fujimoto alters existing landscapes by inserting readymade objects, including Bruno Munari's hanging lamps and Isamu Noguchi's Akari light sculptures, into several traditional interiors. The union of organic modernism and rustic design works so well (both Munari and Noguchi were inspired by bamboo and traditional Japanese crafts) that it's easy to simply walk on by without realizing that old wooden houses with thatched roofs and open hearths were not equipped with electric lighting.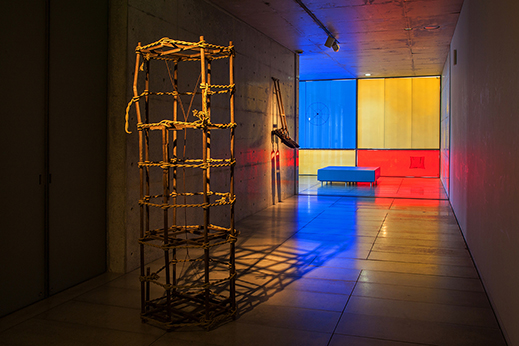 Fujimoto's installation of colored plastic and farming tools at Shikoku Mura Gallery. (Photo: Shintaro Miyawaki)
In Fujimoto's other offering, at Shikoku Mura Gallery, he has employed a similar approach to show us that art is essentially about context and combination. By first applying sheets of blue, yellow, and red plastic to the windows, the artist transformed the concrete space into a kind of chapel dedicated to Mondrian. Next, he cut out geometrical holes in the sheets that roughly correspond to the shapes of old wooden agricultural tools (hammers, plows, and other implements with less obvious uses), and hung the tools in front of the colored windows. This essentially erases the tools' functionality and turns them into visually intriguing objects while integrating traditional technology with modern iconography.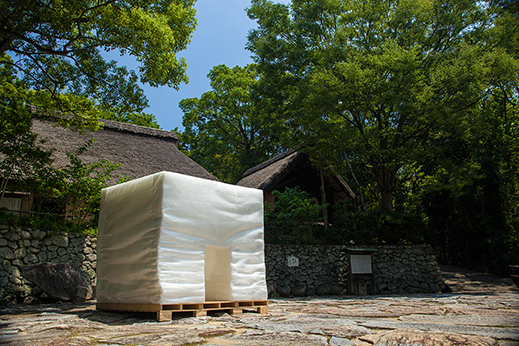 Bubble Wrap House by Takaharu and Yui Tezuka. (Photo: Shintaro Miyawaki)
The second part of the exhibition, "Scenic Follies," features three architectural installations. Here the word "folly" refers to the decorative buildings, sometimes modeled on an exotic source like a Chinese temple or Egyptian pyramid, that were constructed in 19th-century English gardens to add flavor to the landscape and provide a shelter from adverse weather conditions. Though the contemporary interpretations at Shikoku Mura are nominally functional, giving visitors a place to sit, they are closer to being pure artistic expressions. Bubble Wrap House, by Takaharu and Yui Tezuka, for example, is made out of hundreds of layers of bubble wrap and from the outside resembles a square igloo. Against a backdrop of two traditional buildings, the work encourages a comparison between styles and materials, but most of all promises a cool oasis in the summer heat. Inside, there is just enough room for two people to sit on benches across from each other and to gaze up at the sky through a round hole in the ceiling, which, despite expectations, has a dome-like structure. The other "follies," by Shuhei Endo and Isamu Nakamura, are equally playful, creating humorous illusions out of artificial materials and providing a change of scenery.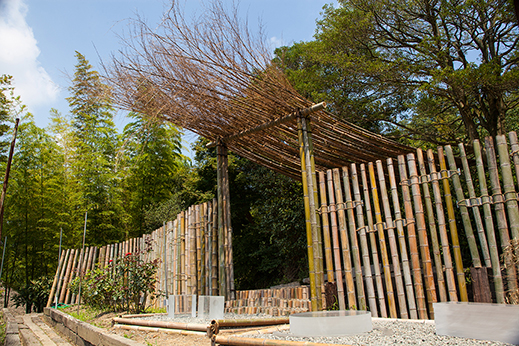 Halftecture S by Shuhei Endo. (Photo: Shintaro Miyawaki)

All images courtesy of Shikoku Mura (Shikoku Minka Hakubutsukan).

Getting to Shikoku Mura takes close to two-and-a-half hours from Osaka by train, but art enthusiasts who make the trip should note that the Isamu Noguchi Garden Museum (where the artist lived and worked on and off for the last 25 years of his life; see here for details) is only about 15 minutes away in Mure, a village long associated with stone masonry. Together the two facilities make for a perfect day out and a refreshing trip back in time.

| | |
| --- | --- |
| | This Is Nowhere |
| | Shikoku Mura |
| | 6 July - 1 December 2013 |
Christopher Stephens
Christopher Stephens has lived in the Kansai region for over 25 years. In addition to appearing in numerous catalogues for museums and art events throughout Japan, his translations on art and architecture have accompanied exhibitions in Spain, Germany, Switzerland, Italy, Belgium, South Korea, and the U.S. His recent published work includes From Postwar to Postmodern: Art in Japan 1945-1989: Primary Documents (MoMA Primary Documents, 2012) and Gutai: Splendid Playground (Solomon R. Guggenheim Museum, 2013).