Focus features two in-depth reviews each month of fine art, architecture and design exhibitions and events at art museums, galleries and alternative spaces around Japan. The contributors are non-Japanese art critics living in Japan.

Post-3.11 Art at MAM: Roppongi Crossing 2013: Out of Doubt


Lucy Birmingham
| | | |
| --- | --- | --- |
| | | |
| Teppei Kaneuji, Ghost in the Liquid Room (lenticular) #1 (2012). Lenticular, reflection sheet, wood; 180 x 180 cm. Courtesy ShugoArts, Tokyo | | Hiroshi Nakamura, Island (1956). Oil on canvas; 130 x 162 cm. Collection of Hamamatsu Municipal Museum of Art |
During the months following Japan's March 2011 quake, tsunami, and Fukushima meltdowns, I was dumbfounded by the veritable void of works by Japanese artists on the epic issues the disaster posed. It was as if it didn't matter. Neo-pop stars Takashi Murakami and Yoshitomo Nara, and a lingering of micro-pop introversions, continued to dominate Japan's contemporary art landscape. When I spoke with several artists about this, they admitted the disaster was so overwhelming they didn't know how to process it, emotionally and visually. They said it would take them time.
Now, nearly three years later, a post-3.11 artistic shift has emerged. Japanese contemporary artists are finally re-engaging in extroverted debate on the world that surrounds them -- societal norms, conflict, world views, nature -- with intriguing proof on hand at the Mori Art Museum's Roppongi Crossing 2013: Out of Doubt exhibition. The show runs until January 13 next year and is the fourth in the triennial Roppongi Crossing series; it also coincides with the museum's tenth anniversary and is, no doubt, a reflection of the institution's future direction.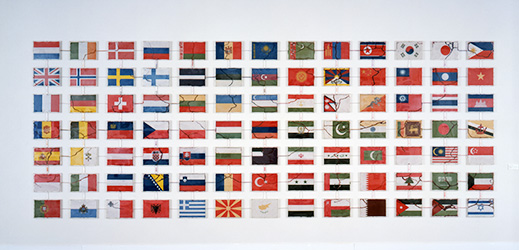 Yukinori Yanagi, Eurasia (2001). Installation; ants, colored sand, plastic box, plastic tube and plastic pipe; 235.0 x 594.5 cm (25.0 x 36.5 cm each, 91 pieces altogether)
A new direction is already apparent in the museum's choice of curators. Two out of three are non-Japanese based abroad. Both are in their thirties and have been on numerous curatorial teams organizing Japanese art exhibitions. Australian Reuben Keehan is based in Brisbane with the Queensland Art Gallery and Gallery of Modern Art, while American Gabriel Ritter is assistant curator at the Dallas Museum of Art.
Along with MAM chief curator Mami Kataoka, they have selected 29 artists and groups born mainly in the 1970s and 80s. This includes artists living and working in Japan, expatriate artists, and second-generation Japanese artists living abroad.
Why the title Out of Doubt? "Doubt can produce positive things," says Reuben Keehan. "A critical perspective can provide new avenues for creation. Things can be produced out of doubt." The second key meaning, he explains, is the desire to get out of a doubtful or frustrating situation where one feels a sense of helplessness, similar to those artists faced after March 11, 2011. "It's given a sense of urgency to the art practices we've profiled within this exhibition." A third meaning looks at the idea of running out of doubt. The overall concept, he says, "is that doubt as a figure of critical thinking produces an art practice that helps people leave a difficult, frustrating situation where they've been exhausted by the things that stand in their way."
| | | |
| --- | --- | --- |
| | | |
| | | |
| --- | --- | --- |
| | | |
| Kishio Suga, Linked Space (2010). Wire, cement; 220 x φ 323 cm. Installation view: Gallery 604, Busan. Photo by Tsuyoshi Sato | | Mika Tajima, The Extras (2010). Wood, canvas, acrylic paint, silkscreen, mirrored aluminum, wood, paper, plexiglas, MDF, spray enamel, video monitor, formica, glass, lights; 152.4 x 243.8 x 213.4 cm. Photo by Jason Mandella; courtesy Sculpture Center, New York |
Historical, critical perspectives are prominently displayed. Works by 76-year-old Genpei Akasegawa reveal his time as an early avant-gardist influenced by the Neo-Dada, Hi-Red Center, Anti-Art (Han-geijutsu) and Non-Art (Hi-geijutsu) movements of the 1950s and 60s. He shot to fame in 1965 after his indictment for producing "imitations" of 1,000-yen notes (in monochrome, with exhibit information on the back). Dubbed the "Thousand-Yen Bill Incident," it tested the right of artistic expression against an old, strict law of the time. Akasegawa was found guilty in 1967 with a three-month suspended sentence that was upheld in 1970 after he lost two lengthy appeals to the Supreme Court. But what he lost in time and legal fees he gained in creative expression -- thick fodder for his work that followed in the 1970s. At the MAM show his Thoughts on Contemporary World of Criticism series (1970-71) borders art and political cartooning, while two larger prints from the early 1970s also play with political irony.
History is boldly revisited with contemporary themes in Sachiko Kazama's breathtaking woodcut prints. The 41-year-old epitomizes a younger generation of artists adapting Japan's historical art techniques and art/political movements with an unforgettable new punch. The follies of Japan's nuclear industry dominate her work in the show. Prison NUKE FISSION 235 (2012) clearly defines her anti-nuclear position.
| | | |
| --- | --- | --- |
| | | |
| Masato Takasaka, Return to Forever (Productopia) (2009). Cardboard, wood, plastic, MDF, acrylic, paint, paper, soft-drink cans, tape and discarded product packaging; dimensions variable. Installation view: "Cubism and Australian Art," Heide Museum of Modern Art, Melbourne. Photo by John Brash | | Yoshinori Niwa, Tossing Socialists in the Air in Romania (2010). Video documentation (29 min. 9 sec.), text. Courtesy Ai Kowada Gallery |
Another theme of the show, explains curator Gabriel Ritter, is nonsense: "looking at nonsense not only as humor, parody, and issues of the absurd but also as historical and contemporary social critique." Ritter includes Taro Izumi in this category. Izumi uses distorted human shapes, technology, and performance to create weirdly wonderful videos that expand perceptions. His video installation Caramel (2013) at the MAM show is a creepy eye-catcher -- pictures of animals with eyes replaced by videos of a darting human eye. The nonsensical masks the underlying serious view of human beings as one of nature's animals, organic but also artificial.
Notions of nature are also explored in the context of historical and social comment. Yukinori Yanagi reflects these concepts in his work Eurasia (2001), originally developed in the early 1990s with his World Flag Ant Farm series. Using ants, sand, and the deteriorating images of national flags, Yanagi points to the permeability of nation-states and throws a rethink at a pet peeve: the historical view that Japan has its own distinct culture. In his famous war-themed, Yukio Mishima-inspired installations on the Seto Inland Sea island of Inujima, Yanagi even takes a whack at the country's underlying nationalistic tendencies. But he remains close to nature themes. As he explains it: "The site-specific projects [on Inujima] are meant to highlight the contrast between today's frenzied, urban-consumption culture with this depopulated, isolated island community and the Japanese original way of life -- standing in awe of the gods, while respecting ancestors and nature, with few wants."
| | | |
| --- | --- | --- |
| | | |
Sachiko Kazama, Prison NUKE FISSION 235 (2012). Woodcut print (panel, Japanese paper, sumi ink); 181 x 120 cm. Photo by Kei Miyajima, courtesy Mujin-to Production, Tokyo
Sohei Iwata x Prominority, House of Adivasi (2010). Soil, bamboo, straw, straw bale, reed, cow manure, microbial filtration water purifier, charcoal; 800 x 900 x 580 cm.

All images © Mori Art Museum, All Rights Reserved.
"'Post-object' or the relationship between viewer and object is another theme in the show," explains Ritter, who cites Mika Tajima's work. Tajima herself fits nicely within the expanded, international context of the show as a second-generation Japanese born in California and now based in New York City. As a sculptor, painter and video/music/performance artist, she also represents a growing trend among younger artists toward multilateral, collaborative productions. Her work The Extras (2009) offers a new twist on Mono-ha (School of Things), an experimental movement from about 1968 to 1973 that questioned the notion of art and "things" (mono). The "extras" are the leftover works sitting in a rack after a "fusion of painting, sculpture and performance." How does one value these leftovers?
There is no doubt this year's Roppongi Crossing exhibition offers an extra dose of critical questions and outside views -- more perhaps than previous versions. How will this new art movement inspire future artists? What shall it be called?
| | |
| --- | --- |
| | Roppongi Crossing 2013: Out of Doubt |
| | Mori Art Museum |
| | 21 September 2013 - 13 January 2014 |
Lucy Birmingham
Lucy Birmingham is a long-time, Tokyo-based journalist, scriptwriter, author, and former photojournalist. She writes regularly for TIME magazine and her articles have appeared in many publications, including the Wall Street Journal, Newsweek, Bloomberg News, and Architectural Digest. As an arts and culture writer her articles have appeared in publications including Artinfo.com, Artforum.com, and ARTnews. She is also a scriptwriter and narrator for NHK (Japan's public broadcaster) and has published several books including Strong in the Rain: Surviving Japan's Earthquake, Tsunami, and Fukushima Nuclear Disaster.
lucybirmingham.com