Focus features two in-depth reviews each month of fine art, architecture, and design exhibitions at art museums, galleries, and alternative spaces around Japan.

Confusion Is Next: Artistic Reflections on the Contemporary Experience


Christopher Stephens
Takehiro Iikawa, Decorator Crab: Arrangement, Adjustment, Movement (2022), © Takehiro Iikawa. Photo by Hyogo Mugyuda
It all starts with confusion. After making your way down to the third basement of the National Museum of Art, Osaka -- a building located almost entirely underground -- you would normally find yourself in front of the entrance to the current exhibition. But things are a bit different with Range of the Senses: What It Means to "Experience" Today (on view through 22 May), a show featuring works by seven now active artists.
To begin with, a huge wooden cube, roughly three meters square, extends out into the corridor, completely blocking the way inside. A museum attendant is standing off to the side, but she does not offer any direction or advice. Then, just when you are ready to move on and look for another opening, a few people head back toward the cube and start pushing against it. By the time six or seven people have gathered, the brown mass begins to budge, gradually sliding back into the space -- though the weight of the structure does not make this an easy task. When the cube appears to have stopped moving, you figure that must be it until you spot a narrow passage on the side. As everyone files down it, someone discovers that the even higher brown wall on your right can also be moved, so everyone starts pushing against that. At last, you find yourself in a gallery among several other viewers.
This work, Arrangement, Adjustment, Movement, and the other three pieces by Takehiro Iikawa (born in Hyogo Prefecture in 1981) in the exhibition, are part of his Decorator Crab series. The title refers to a species of crab that camouflages itself by collecting materials (seashells, coral, seaweed and the like) from its immediate environment and affixing them to its body in order to blend in with the surroundings and ward off predators. More information on the animal is provided in Iikawa's Impulse and Things Around, a short video documentary made up of interviews with decorator-crab researchers and enthusiasts, all of whom admit to never having actually seen one of the creatures.
There are also several backpacks, collectively known as Very Heavy Bag, in various places throughout the exhibition (and, you notice later, one in front of the information desk at the museum entrance). Although the backpacks are sitting there in plain view, you choose to ignore them at first, knowing that it is wrong to touch things in the museum. Besides, aren't you supposed to report unattended bags to the staff? But after seeing two or three and feeling pretty sure they do not belong to anyone, you work up the courage to pick one up and find that it is nearly impossible to lift. Iikawa's simple yet brilliant approach to art prompts a range of emotions, frustration and curiosity among them. It also succeeds in making us forget where we are and immersing us in a situation that demands our full attention.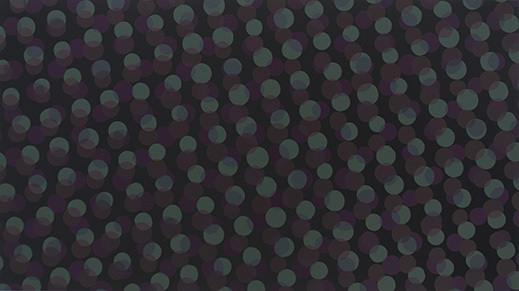 Kohei Nawa, Dot Array -- Black #063 (2022), © Kohei Nawa. Photo by Shigefumi Kato, courtesy of Gallery Nomart
None of the works by other artists in the show can quite match the initial rush of Iikawa's, but the maze-like aspect of this first section continues throughout the exhibition as you stumble on a new room or hallway. Tucked inside one cove are two groups of paintings by Kohei Nawa (born in Osaka in 1975), a multidisciplinary artist best known for his sculptures of taxidermied deer covered with glass balls. Here, around 30 paintings with identical dimensions (56 x 100 cm) from the series Dot Array -- Black and Line Array -- Black are displayed at exactly the same height, somewhat below the center, on the walls of the completely white space. From a distance the pictures, all dated 2022, are of a uniform blackness. But up close, you begin to see -- as the titles suggest -- patterns of computer-generated dots and lines. The lines are a dense cluster of threads spraying outward, recalling an image from an electron microscope; the dots, often ordered in squares, are layered on top of other slightly staggered patterns of dots, making them appear to move and rotate. Both series were printed with UV ink, imbuing the pictures with a spectrum of colors that changes according to where you stand. Is this a glimmer of hope in the darkness?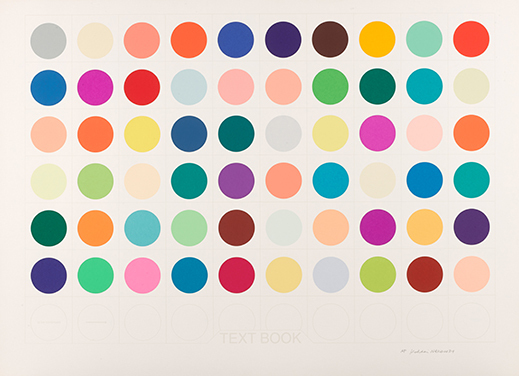 Kodai Nakahara, Text Book (reference image, 1995), © Kodai Nakahara. Photo by Shigefumi Kato, courtesy of Gallery Nomart
Dots are also at the heart of Text Book, a 2022 series by Kodai Nakahara (born in Kurashiki, Okayama Prefecture in 1961) based on the artist's eponymous 1995 print (not on display here, but featured on the exhibition poster). The earlier Text Book -- a grid of equally spaced, uniformly sized, variously colored dots -- could easily be mistaken for one of Damien Hirst's "Spot Paintings." Nakahara's 2022 works, however, are large-format books with a single silkscreened dot on each page. To view them, visitors are asked to don plastic gloves and leaf through one of several thick volumes. The concept is straightforward, but Nakahara's intention is to provide each viewer with a unique experience by using specific hues or color sequences to trigger memories and associations. Having the ability to choose which pages you look at and the speed at which you turn them adds another variable to the process.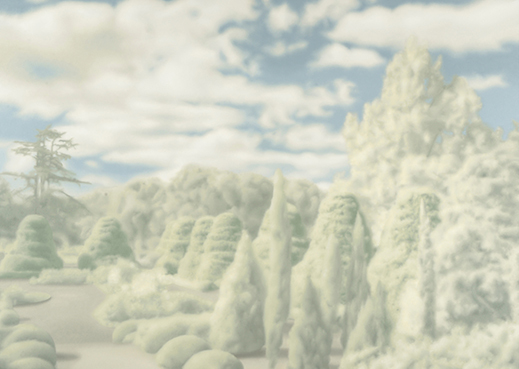 Yasuko Iba, Untitled 2022-01 (2022), © Yasuko Iba. Photo by Shigefumi Kato, courtesy of Gallery Nomart
Early in her career, Yasuko Iba (born in Kyoto in 1967) developed the unusual technique of placing an everyday item such as a cushion or vase in an acrylic box, photographing it, and using the image as the basis for a painting. The box has the effect of refracting light and softening contours, capturing an object's atmosphere more than its physical appearance. In recent years, Iba has shifted her focus to landscapes, including the handful of untitled works in this exhibition. Some are apparently close-ups of trees, but as the green of the foliage has largely been bleached to a hazy white, the images look more like splashing water or billowing smoke. Two other paintings depict washed-out forests seen from a distance under blue skies, evoking visions of a nuclear winter. Along with these paintings are three video installations projected on wall-mounted monitors. The screens are covered with flickering dots akin to the "snow" that appears on a TV when nothing is being broadcast. After you stare intently at these works for a while, the light particles give way, revealing a hidden scene and enabling you to, in Iba's words, "touch the subject by seeing it."
| | |
| --- | --- |
| | |
| | |
| | Hajime Imamura, Parasitism, Mushroom -- 2022 (2022), © Hajime Imamura. Photo by Shigefumi Kato |
Hajime Imamura (born in Osaka in 1957) is an accomplished sculptor whose works include carved wooden flowers and fronds discreetly placed in overlooked corners of a space. Parasitism, Mushroom -- 2022, Imamura's installation for this exhibition, occupies the museum's atrium, extending from the third to the first basement. The work, a sprawling tangle of metallic strands and what appear to be organic vines, is topped with an immense wire mushroom pointing upward. The other central motif is a human figure, also made of wire, that is diving toward the floor with arms and legs outstretched. Looking up at the piece as it floats in the air above, you feel as if you, too, are being implicated as a parasite, dwelling deep in the earth and entwined in this complex network of roots.
Like the other works in the exhibition, Imamura's installation expands our perceptions, allowing us to transcend the narrow sphere of activity that our lives have been reduced to since the outbreak of the coronavirus. Having experienced things that are wholly unique to this time and place, we leave the building with a renewed faith in the human imagination and the potential of the museum as a medium.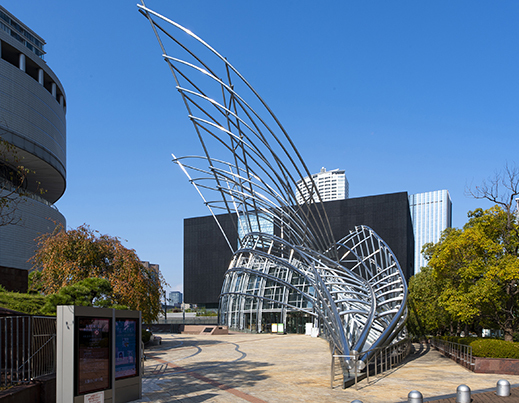 Exterior view of the National Museum of Art, Osaka. According to the architect, Cesar Pelli, the sculpture was inspired by a bamboo groove. The black building in the background is the Nakanoshima Museum of Art, Osaka. Photo courtesy of the National Museum of Art, Osaka
All photos courtesy of the National Museum of Art, Osaka.
Christopher Stephens
Christopher Stephens has lived in the Kansai region for over 25 years. In addition to appearing in numerous catalogues for museums and art events throughout Japan, his translations on art and architecture have accompanied exhibitions in Spain, Germany, Switzerland, Italy, Belgium, South Korea, and the U.S. His recent published work includes From Postwar to Postmodern: Art in Japan 1945-1989: Primary Documents (MoMA Primary Documents, 2012) and Gutai: Splendid Playground (Solomon R. Guggenheim Museum, 2013).