True to form as the holder of one of the world's finest collections of Nihonga, the Yamatane Museum of Art in Tokyo is currently offering a comprehensive look at the work of one of that genre's leading lights, Seiho Takeuchi (1864-1942), on the 70th anniversary of his death. A contemporary of Nihonga superstar Taikan Yokoyama (1868-1958), the Kyoto-based Seiho is often mentioned in the same breath as the Tokyo painter, as in the popular Nihonga adage "Taikan in the east, Seiho in the west." Such arbitrary pairings tend to suggest some sort of rivalry between the two masters, but in fact they were mutual admirers who even collaborated on occasion, notably on the celebrated
Sho-chiku-bai
(Pine, Bamboo, Plum), a set of three scrolls on which the two joined with their equally esteemed colleague Gyokudo Kawai, each contributing his own distinctive rendering of one of the three auspicious trees.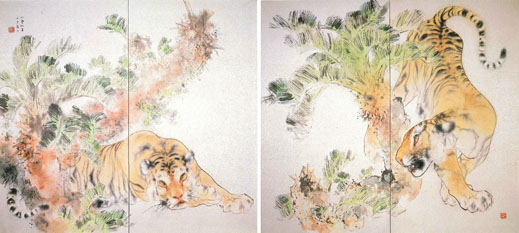 Seiho Takeuchi, Tigers, color on paper, 1940 (170.0 x 188.0 cm each), Kyoto Municipal Museum of Art
Nonexistent rivalries aside, it is difficult to talk about Seiho without invoking Taikan for comparison's sake. The two men virtually created the modern Nihonga genre, brilliantly fusing traditional Japanese painting techniques and motifs with those of the West. Yet their styles are markedly different: where Taikan's work is bold and impassioned, yet often orthodox in composition, Seiho was a low-key revolutionary whose innovations, frequently laced with subtle humor, are slyly subversive, yet ultimately the more radical of the two. The staying power of the "east vs. west" trope is easy to understand in this light, since the contrast between the two artists' approaches mirrors other entrenched clichés about Tokyo's in-your-face aggressiveness vs. Kyoto's refined erudition.
| | | |
| --- | --- | --- |
| | | |
| Seiho Takeuchi, Rain, ink on paper, c.1932 (30.9 x 41.0 cm) | | Seiho Takeuchi, Itako in Early Summer, color on silk, 1930 (68.0 x 87.0 cm) |
Where Taikan was given to grand landscapes, often featuring Mt. Fuji and a scarlet rising sun, Seiho seemed fondest of painting animals. His most famous work, a designated Important Cultural Property, is a realistic depiction of a common household tabby cat with piercing green eyes (the museum also provides an amusing black-and-white photo of the cat that served as Seiho's model). One of his most exquisite compositions,
Crow in the Evening
, depicts a small, solitary bird barely visible in the spooky twilight of a near-abstract sumi-ink landscape. Seiho clearly loved crows: in his final work
Spring Snow
, painted in the year of his death, one perches on the prow of an old fishing boat, surrounded by falling snow.
| | | |
| --- | --- | --- |
| | | |
| Seiho Takeuchi, Tabby Cat, color on silk, 1924 (81.9 x 101.6 cm) | | Seiho Takeuchi, Crow in the Evening, ink on paper, 1933 (58.6 x 68.1 cm) |
Larger, more exotic creatures figure prominently in his oeuvre as well, among them lions, tigers, and bears -- as well as elephants. In
Tigers
two big cats crawl and stalk across a pair of screens, their eyes burning bright with a glow curiously reminiscent of the aforementioned tabby. The lifelike felines also pay homage to an earlier tiger by one of Seiho's greatest influences, Maruyama Okyo (1733-95). A farm boy who grew up to challenge the court-approved Kano and Tosa schools with his straight-from-nature realism and who went on to found Kyoto's Maruyama School, Okyo was one of the first artists in Japan to incorporate such Western elements as perspective and life-drawn nudes.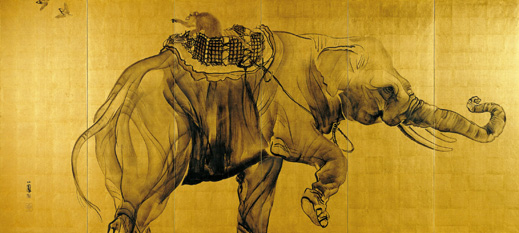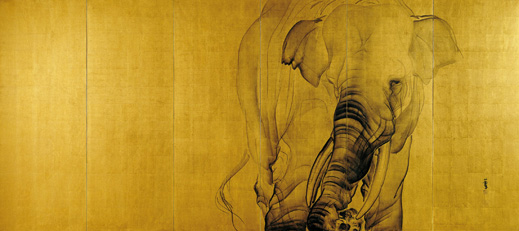 Seiho Takeuchi, Elephants, ink on gold-leafed paper, c.1904 (166.3 x 372.6 cm each) (displayed until 28 October)

Where Okyo legendarily first encountered perspective in an imported novelty toy, a European stereoscope, Seiho actually visited Europe in 1900 on the occasion of the Exposition Universelle in Paris, and studied Western art there. His exposure to the works of masters like Turner and Corot spurred him to integrate Western realist techniques with those of Okyo and his protégés, thus setting the parameters for most modern Nihonga to come. A sublime example of how he combines East and West in a masterful, yet at the same time humorous, way is
Elephants
, a massive work covering two six-panel screens and featuring a pair of the exotic beasts in contrasting poses, lateral and frontal. Outlining the elephants in sumi ink against a glowing gold-leaf background, Seiho sketches them with a quick, loose line that adds dynamic torque to their powerful presence . . . but riding atop one is a monkey who comically gesticulates at a pair of little birds in flight.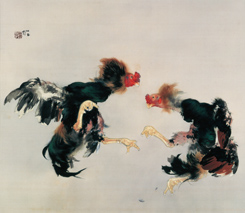 Seiho Takeuchi, Cockfighting, color on silk, 1926 (123.0 x 141.5 cm)

All images courtesy of the Yamatane Museum of Art except where otherwise noted.
Some works described here are not on view during the second half of the exhibition.
Seiho left his mark not only as a painter, but as a dedicated teacher and mentor to many of the great names in 20th-century Nihonga: Shoen Uemura, Goun Nishimura, and Suisho Nishiyama among them. The Yamatane exhibition edifyingly brackets its presentation of 42 of Seiho's works with a look at both his Kyoto predecessors -- Okyo, Yosa Buson, Goshun, Mori Sosen, Nagasawa Rosetsu -- and his disciples. As a crucial link between tradition and modernity, Seiho occupies a position in Japanese art that parallels that of the Meiji Restoration in Japanese history.