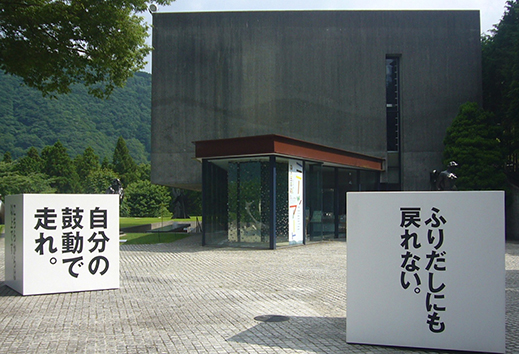 The Main Gallery building of the Hakone Open-Air Museum, with part of Hiroko Ichihara's installation in the foreground. Photo by Alan Gleason
For 45 years the Hakone Open-Air Museum has offered an idyllic mountainside setting through which to stroll and take in a sprawling assortment of outdoor sculptures -- mostly contemporary, often bemusing, but never boring. Since 2010 it has also sponsored an annual exhibition on another mountain -- Rokko, the ridge that rises behind the port city of Kobe -- that puts its bucolic ambience to good advantage framing installations that don't fit the usual definition of sculpture. Commemorating the fifth year of Rokko Meets Art, the Hakone has invited eight artists who exhibited in the first four years to participate in Hakone Meets Art: Tamatebako in the Forest, on view in and around the museum's Main Gallery through August.
The tamatebako of the title is a magic box of the sort that recurs as a motif in Japanese folklore. Like the proverbial box of chocolates, you never know what you'll get when you open it. The consequences can be dire -- more Pandora's box than treasure chest -- though for the current show, "grab-bag" comes to mind. It's hard to get a sense of any kind of unifying theme, or of the criteria by which these artists were picked from the dozens who have participated in the Rokko shows, but no matter. Each work has its charm, and several are downright poignant, or at least thought-provoking. If there is a point in common, it is scale: these installations take up space, and the Hakone has ample room for displaying them, indoors as well as out.
Passing through the courtyard at the entrance to the museum grounds, one first encounters a number of large white cubes with messages printed in stark black Japanese lettering. This is the "word art" of Hiroko Ichihara, who says that language is her motif of choice just as landscapes or flowers or the human figure might be for another artist. Unfortunately no English gloss is provided for her texts, but here are a few samples (my translations): "This and that, it's all a rehash." "You can't go back to square one." "Isn't there some other way to say it besides 'love'?" . . . The cumulative effect is of a series of rather cynical but amused glances at the human condition. The boxes seem to have landed out in the courtyard after being tossed from the adjacent gallery building like so many huge dice -- a nice way of linking the indoor exhibits to the great outdoors surrounding them.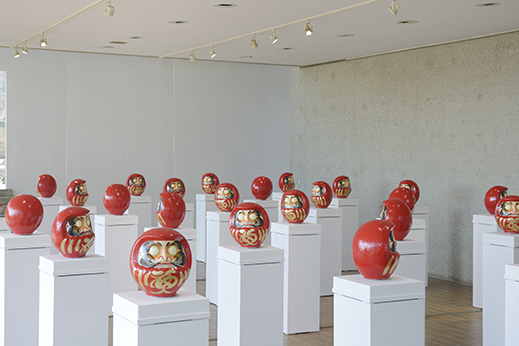 Kotobuki Shiriagari, Solid of revolution dream of marching DHARMA, 2014; Dharma dolls, motors, speakers, DVD players. Photo by Ikuko Hirose
Inside the Main Gallery, which is actually a museum-sized building with several large galleries, one is greeted by a rather astonishing, and hilarious, sight: a bright roomful of squat red daruma (Japanese for Dharma) dolls -- 30 of them! -- all rotating on their own daises and emitting a low-frequency babble that sounds like priests muttering some sort of chant. Daruma are a traditional caricature of Bodhidharma, the patriarch of Zen Buddhism, but what these dolls (or the speakers embedded in their pedestals) are chanting is a little ditty composed for the occasion by the artist, Kotobuki Shiriagari. It goes something like this: "I'm strong, I'm great, yo ho ho, here I go!" Shiriagari had the museum staff record the voices -- a different one for each doll. Best known as a manga artist, he explains that he's always been drawn to "things that revolve." If this is no more than an expansive audo-visual gag, it's still a great one.
| | | |
| --- | --- | --- |
| | | |
| | | |
| Kiichiro Adachi, Parabola, 2014; mirrors, motors, gears, pulleys, belts, steel, mixed media. Through the doorway in the rear, a glimpse of Chandelier. Photo by Ikuko Hirose | | Kiichiro Adachi, Chandelier, 2010; mirrors, motors, pulleys, belts, steel, mixed media. Photo by Alan Gleason |
Moving upstairs, one enters a large, dark, windowless space. Suspended from the high ceiling are several umbrella-like reflectors that resemble mirror balls turned inside out. As they rotate they cast soft, gently shifting pools of light on the floor, looking for all the world like the patterns of sunlight that filter through trees in a forest. Through a narrow doorway one catches a glimpse of more dramatic movement: a galaxy-like swirl of points of light flowing across the opposite wall. In the back of this small chamber a bizarre contraption, a trio of long, concave mirror-cones that rotate at irregular intervals, generates the cosmic stream. Artist Kiichiro Adachi says his art is one of "devices" -- mechanical contraptions, painstakingly constructed of motors, pulleys, and belts -- that play with light and darkness in magical ways.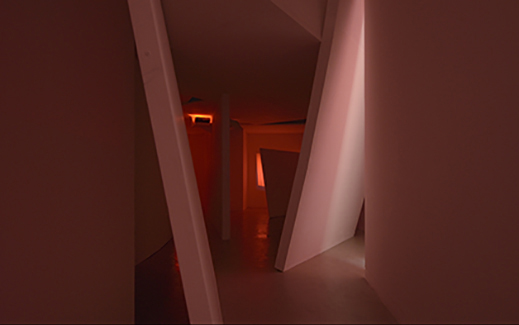 Takayoshi Kitagawa, Shiori [Bookmark] Wall, 2014; wood, projector, acrylic case. Photo by Ikuko Hirose
Through another doorway shines a faintly reddish aura that emanates from another installation, Takayoshi Kitagawa's Bookmark Wall. It turns out that the building's architect, the late Bukichi Inoue, had painted a bright red stripe down one wall of the otherwise white gallery, coloring the outdoor light that enters through a narrow window next to it. In response Kitagawa has set up a number of large partitions in the surrounding space that guide and manipulate this red light through a labyrinth of sublime gradations. He describes the serendipitous red stripe (for which Inoue gave no explanation) as a "bookmark" that both demarcates and connects the gallery interior and the world outside.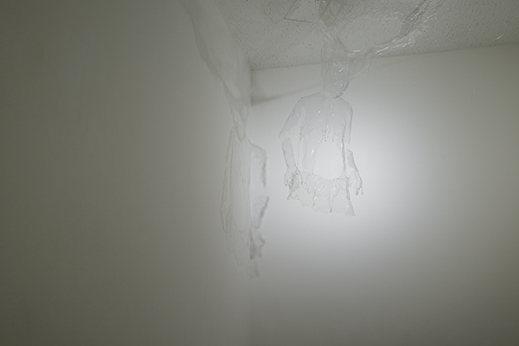 Sachie Kimura, Interfacial Sculpture, 2014; synthetic resin, gut, electric fan, iron, rope, acrylic beads, manicure. Photo by Ikuko Hirose
The most emotionally resonant exhibit is the one that takes up the least space. Hovering in a small room of its own, Sachie Kimura's Interfacial Sculpture is also the only work in this show that might truly be termed a sculpture, as the artist asserts in her title. It is a fragile, ethereal piece: Kimura has taken a mold of her own likeness with a thin, transparent layer of synthetic resin. Hanging from the ceiling by strands of "hair" woven from rope, it quivers ever so delicately in the slight breeze from an electric fan. One feels as if in the presence of a benign, somewhat forlorn ghost. Kimura explains that the human experience today is less that of a solid body than of an interface with the world no more substantial than a layer of skin.
Koji Kakuno, I'm a bagworman, 2010; fallen leaves, fallen branches, etc. Photo by Mutsumi Nagahashi

All photos by permission of the Hakone Open-Air Museum


It is Koji Kakuno's whimsical I'm a bagworman, however, that adds a consummately human element to the show. More performance than installation, the work consists of Kakuno suspending himself from a tree on the museum grounds for hours at a time, encased in a giant cocoon modeled after that of the bagworm. During limited periods (the next will be August 9 through 13), Kakuno will be on view in his "bag," made of leaves and branches picked off the ground, from nine to five every day, with only his face and one arm visible. Kakuno describes himself as a reclusive, socially awkward person who finds it easier to relate to people while up a tree, so to speak. Judging by the video running on a monitor at the museum entrance, Kakuno -- in his bagworm incarnation, at least -- seems a friendly, outgoing type who chats with passersby and maintains a barrage of tweets via his smartphone.
Though the tamatebako assembled by the Hakone Open-Air Museum leaves the visitor a little curious about how the goodies therein were selected, it cannot be accused of predictability. You definitely do not know what you're going to get, and why should you? Hey, that's life.

Hakone Meets Art - Tamatebako in the Forest
(in Japanese only)
The Hakone Open-Air Museum (English)

22 March - 31 August 2014

1121 Ninotaira, Hakone-machi, Kanagawa Prefecture
Phone: 0460-82-1161
Open 9 a.m. to 5 p.m. year-round; admission until 4:30 p.m.
Transportation: 2 minutes' walk from Chokoku-no-Mori Station on the Hakone Tozan Line (35 minutes from Hakone-Yumoto Station on the Odakyu Line)
Alan Gleason


Alan Gleason is a translator, editor and writer based in Tokyo, where he has lived for 28 years. In addition to writing about the Japanese art scene he has edited and translated works on Japanese theater (from kabuki to the avant-garde) and music (both traditional and contemporary).