Here and There introduces art, artists, galleries and museums around Japan that non-Japanese readers and first-time visitors may find of particular interest. The writer claims no art expertise, just a subjective viewpoint acquired over many years' residence in Japan.

Gateway to the Continent: The Fukuoka Asian Art Museum


Alan Gleason
View of the Fukuoka Asian Art Museum street entrance
In Japan, Asia often seems to be regarded the way many Britishers view Europe -- as a separate entity across the water. Granted, "Asia" is a Western construct, so perhaps only Westerners hear something oddly insular in phrases like "Japan and Asia." However the island nation chooses to define its relationship to the continent, though, there's no denying the intimate and complicated historical and cultural ties between them. Therefore it's a bit surprising to learn that there is only one museum in Japan devoted to "Asian art": the Fukuoka Asian Art Museum (FAAM).
Even more significant than this distinction, however, is the institution's claim to be the "world's only modern Asian art museum," and that is the best reason to visit it. Plenty of museums, in Japan and elsewhere, hold troves of ancient and medieval art from Asia -- but FAAM is the only one that aims to provide a comprehensive introduction to modern and contemporary Asian art. In this it succeeds with an encyclopedic and wonderfully curated overview of works primarily from Japan's neighbors, though a number of Japanese artists are also represented.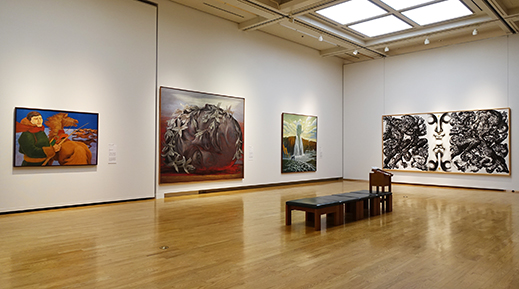 Exhibition view, permanent collection, Asia Gallery. From left to right: Badamajavin Chogsom, Dream, Mongolia, 1985; Chatchai Puipia, Dok Peep, Where Does One Go after Death?, Thailand, 1997; Tserennadmidin Tsegmed, Orkhon, Mongolia, 1993; Thawan Duchanee, Self, Thailand, 1989
FAAM is run by the city of Fukuoka, a fitting host as this bustling metropolis in southwestern Japan has thrived for centuries as the country's gateway to the rest of Asia. Occupying two upper floors of an otherwise typical downtown mixed-use building, the museum cheerfully asserts its presence with a bright yellow entryway at street level. It's an apt welcome to the world of color that awaits upstairs.
Opened in 1999 to house the burgeoning Asian holdings of the Fukuoka Art Museum, which retains the bulk of the city's Japanese art, FAAM boasts a growing collection of some 3,000 works dating from the late 18th century to the present by artists from 23 countries in East, Southeast and South Asia. (The museum does not include in its purview art from Russia, Australia, New Zealand, or anywhere west of Pakistan.) It also collects folk art it deems relevant to understanding modern and contemporary work in these countries. One of the many virtues of the facility is its welcoming stance toward non-Japanese visitors, as demonstrated by the thoroughness of its multilingual signage.

| | | |
| --- | --- | --- |
| Lee Bul, Chrysalis, South Korea, 2000 | | Anonymous (Company School), Krishna and Radha under the Mango Tree, India, late 19th century (exhibited in Summer Kid's Special -- Magnify the World: Tiny Objects, Fine Details, 29 June - 29 August 2017) |
FAAM also has a staff of curators who are clearly committed to interpreting and explaining their impressive collection. Among other things they address the complex mix of influences on Asian artists during an era dominated by the influx, in many cases via colonialism, of Western culture. An underlying theme is the dual streams -- sometimes opposing, but more often intertwined -- of art that seeks to incorporate its homeland's traditions and that which has been inspired by Western concepts. FAAM displays works from the Company School of Indian artists who painted "traditional" miniatures for officers of the East India Company; impressionist, cubist, and abstract expressionist work by artists who looked outward for modern inspiration; and, concurrent with the independence movements of the 20th century, efforts to develop an original voice by integrating indigenous motifs and techniques with those imported from the West. In recent years, movements against dictatorship and economic injustice have produced works of incisive social critique, while globalization has spurred the same sort of fragmentation and alienation in the Asian art world as one sees elsewhere, exemplified by the "cynical realism" in vogue in Chinese art today.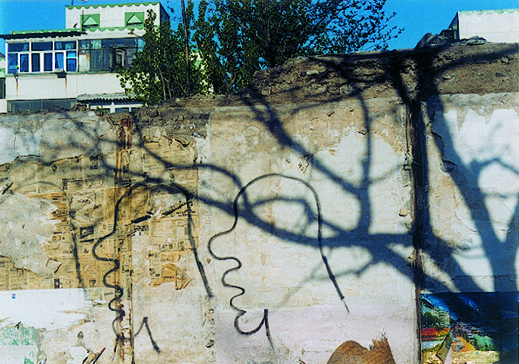 Zhang Dali, 200143b, China, 2001 (exhibited in Chasing Light, 23 March - 27 June 2017)
With access to such a rich and varied wellspring of creative expression, FAAM curators need never lack for ideas, and this is borne out by their robust calendar of events and exhibitions. Some, like SUNSHOWER: Contemporary Art from Southeast Asia 1980s to Now (running from 3 November to 25 December), are organized around a particular region and era. Others are more theme-oriented. The recently concluded Chasing Light gathered paintings, photographs, and prints from Sri Lanka, Thailand, Mongolia, Bhutan, China, South Korea, Bangladesh, and Singapore to demonstrate how Asian artists have given form to the titular "formless object."
Ahsan Jamal, Surrounded By, Pakistan, 2003 (exhibited in Summer Kid's Special -- Magnify the World: Tiny Objects, Fine Details, 29 June - 29 August 2017)
In general, the museum's staff appear to enjoy free rein to introduce Asian art under pretty much any thematic umbrella they like. Up this month are two kid-friendly exhibitions, timed with summer vacation in mind: Summer Kid's Special -- Magnify the World: Tiny Objects, Fine Details until 29 August, and Welcome to the Picture Book Museum 2017 until 20 August. Neither show is particularly Asia-specific in concept, but both afford young visitors an opportunity to get acquainted with work from a potpourri of cultures.
Rounding out the year are such offerings as Welcome to Art in Myanmar! (31 August 2017 - 9 January 2018) and, in a gesture toward Japan's place in the Asia mix (even as the title emphasizes its otherness), In the Foreign Sky: Japanese Artists and Asia (11 January - 17 April 2018). If this wealth of options isn't enough to prod you to hop a plane or train to Fukuoka, FAAM's Asia Gallery always has a rotating selection of masterpieces on display from the museum's permanent collection. Top the day off by sampling the street fare at some of Fukuoka's legendary yatai food stalls, and you'll feel like you really are on the continent.

| | | |
| --- | --- | --- |
| Lionel Wendt, Bachelor Cruising South, Sri Lanka, c.1933-37 (exhibited in Chasing Light, 23 March - 27 June 2017) | | Chatchai Puipia, Round Figure, Thailand, 1990 |
All images courtesy of the Fukuoka Asian Art Museum
Fukuoka Asian Art Museum
7-8F, Riverain Center Bldg., 3-1 Shimokawabata-machi, Hakata-ku, Fukuoka
Phone: 092-263-1100
Open 10 a.m. to 8 p.m. (last admission 7:30)
Closed Wednesdays (or the following day if Wednesday is a national holiday), and December 26 - January 1
Access: Located above Nakasu-Kawabata Station on the City Subway, 5 minutes from JR Hakata Station or 10 minutes from Fukuoka Airport
Alan Gleason


Alan Gleason is a translator, editor and writer based in Tokyo, where he has lived for 30 years. In addition to writing about the Japanese art scene he has edited and translated works on Japanese theater (from kabuki to the avant-garde) and music (both traditional and contemporary).