Focus features two in-depth reviews each month of fine art, architecture and design exhibitions and events at art museums, galleries and alternative spaces around Japan. The contributors are non-Japanese art critics living in Japan.

Non-Houses and Bird Trees by Studio Mumbai: A Temporary Installation at MOMAT


Nicolai Kruger
| | | |
| --- | --- | --- |
| | | |
| "Bird Trees" throughout the installation sway gently and suggest a shady canopy. | | The wood louvers of Pavilion Swing invite summer breezes, while the swing itself playfully beckons visitors. |
Natsu no Ie (or Summer Houses) is a temporary installation in the forecourt of the National Museum of Modern Art, Tokyo (MOMAT). Fabricated on-site by the prolific design-build collaborative Studio Mumbai, it is a relaxing space that is free and open to the public while the museum's main exhibit halls are closed for renovation.

Studio Mumbai was founded by Bijoy Jain, a U.S.-trained architect who spent his formative years in the Los Angeles and London offices of Richard Meier before returning to his native India. Jain's work is sometimes called "modern vernacular," as he gives careful consideration to the limited materials and local building techniques available for each project. The number of designers, artisans and skilled craftsmen working at Studio Mumbai has grown from 15 at its founding in 1995 to approximately 120 people today. Although the firm pursues projects mainly in India, it has exhibited in Japan, the U.K., Switzerland, and most notably at the 2010 Venice Biennale, where it received international acclaim. Jain was invited to have his own show this year at Toto Gallery Ma in Tokyo (Studio Mumbai: Praxis), which kicked off the idea for a concurrent temporary installation. Natsu no Ie is Studio Mumbai's first built work in Japan.


| | | |
| --- | --- | --- |
| | | |
| The view towards Pavilion Window from Pavilion Swing. | | The teak wood details throughout Natsu no Ie are exquisite. In Pavilion Tower the interior walls have been plastered by a collaborating Japanese craftsman. |
On his initial site visit, Jain and his associate spent two days studying the existing parameters of the museum's modest-sized forecourt. Through sketches and models, they proposed what would become the final assemblage, a juxtaposition of three open-air, wooden structures. These were designed and pre-fabricated at Studio Mumbai's workshop specifically for the MOMAT site. They were then disassembled and shipped by container to Japan. Jain and several of his carpenters traveled to Tokyo to meet the shipment and spent two weeks reassembling and installing the pavilions while demonstrating their techniques for the public. The installation draws on the Japanese tradition of do-it-yourself huts or barakku (from the English word "barrack") that emerged as a postwar reconstruction-era building typology. This historical element was an inspiration to Jain, who has done extensive research on the temporary and ad-hoc shelters found throughout rural Indian villages.

Pavilion Window, Pavilion Swing, and Pavilion Tower are fabricated primarily of teak wood and canvas. These "non-houses," as Jain refers to them, are situated harmoniously among 14 man-made "bird trees." The latter are bamboo poles that support a woven grid and together create a very convincing tree-like canopy meant to provide additional shade and, as Jain says in an interview, "attract birds so you could have a conversation with the birds, and then they may fly back to the palace and deliver your message." Jain first observed this traditional concept employed in Udaipur, India. It is again representative of how Studio Mumbai adopts vernacular elements into its work.

| | | |
| --- | --- | --- |
| | | |
| According to architect Bijoy Jain, the loft-like upper level of Pavilion Tower was inspired by the moon-viewing platform at Katsura Imperial Villa in Kyoto. | | The transparent screens of Pavilion Window are in sharp contrast to the bright blue canvas-clad walls of Pavilion Tower. |
Pavilion Window is inspired by traditional Indian tea stalls. Not unlike a bus stop, it can be seen as a house pared down to its barest essentials: a bench, a roof, and a window. The open structure encourages casual socializing as those on the bench can interact with others sharing the bench, standing outside or through the window. The playful Pavilion Swing takes a slightly more intimate form with a reclined bench inside and a grand swing on the opposite, open end. The walls of Pavilion Swing are made of a series of wooden louvers that allow the summer breezes to blow through. Even when not in use, the swing is a presence that beckons visitors and reinforces the idea that these pavilions are anything but static.

Pavilion Tower is a two-story structure reminiscent of a tree house, with a generous, beautifully detailed wrap-around bench on the lower level. Accessed by a steep staircase, the loft-like upper level was, according to Jain, inspired by the moon-viewing platform at Katsura Imperial Villa in Kyoto. Like a Japanese tea house, Tower Pavilion has only small windows: one that frames an elegant view and one that lets in glowing indirect daylight, making the interior space darker than that of the other two pavilions. In a nod from one culture's craft and building tradition to another, the inner walls of Tower Pavilion were finished locally by a traditional Japanese plasterer.

Luckily the "summer houses" of Natsu no Ie will be on display beyond this summer, until mid-January 2013. Of his first built work in Japan, Jain says these pavilions "are unfinished fragments of houses, but may be viewed as completed houses depending upon one's way of looking at them. What we would like to create is not mere pavilions but an elegant space where people can experience their surrounding environment. They will resonate with the existing yard, outdoor sculpture, and museum building in an independent yet not exclusive and overbearing way. I hope this will be a catalyzing and developing architecture that generates a variety of experiences and changes inside the people who visit here."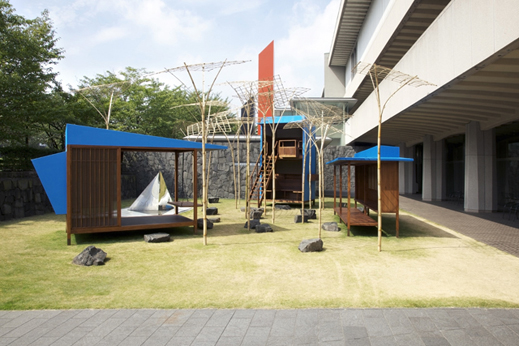 Natsu no Ie is an assemblage of three non-houses and 14 "bird trees."
Photo © Masumi Kawamura

All photos by Nicolai Kruger except where otherwise noted.
Nicolai Kruger, AIA


Nicolai Kruger is an architect managing international projects at Pelli Clarke Pelli Architects, Japan. She has been living in Tokyo since 2006. She received her BFA in Design at Cornish College of the Arts in Seattle, followed by her Masters of Architecture at the University of Oregon. Her principal areas of interest include mixed-use, temporary structures, exhibition and lighting design.