| | | |
| --- | --- | --- |
| | | |
| The round central display cases at the newly established National Archives of Modern Architecture make a bold gesture in the otherwise modest main exhibit space. | | A mockup and zoomed-in details of Taureau 14, designed by Le Corbusier, commissioned and interpreted by Takamasa Sakakura, and executed in Japan by Kawashima Selkon Textiles Co., Ltd. (1956). Like many pieces on display, it is mounted on the face of the flat file storage drawers holding the precious volumes. |
Until recently in Japan, there had not been an official system in place for conveying the academic, historical, and artistic value of the nation's modern architectural riches to the public and to future generations. The newly established National Archives of Modern Architecture, located on the grounds of the Kyu-Iwasaki-Tei Gardens in Yushima, central Tokyo, aims to promote public appreciation for works of modern architecture though outreach projects, exhibitions, and lectures. Admission to the gardens includes access to the Archives, and it is well worth visiting both.

Over the course of its first year, the Archives has taken stock of the location of architectural documents and materials that exist throughout the nation, inspecting items in urgent need of protection in preparation to acquire and archive them. The focus of the collection is on materials related to architecture or architects that are highly regarded both within Japan and internationally, mainly from the postwar era (though the intention is to gradually expand its scope to include earlier and later periods). The works must be associated with compositions that are of great artistic or technical value, at risk of being lost or damaged, and in need of immediate protection by the state. The core activities of the Archives are information gathering; collection and safekeeping of materials; exhibition and education; and surveys and research.
| | | |
| --- | --- | --- |
| | | |
| | | |
| --- | --- | --- |
| | | |
| Great care has been taken to preserve the original axonometric drawing of Junzo Sakakura's Museum of Modern Art building in Kamakura, which is now threatened with demolition. | | A construction photo, circa 1951, reveals the appropriate economy of means that Sakakura employed for Japan's first postwar museum, the Museum of Modern Art in Kamakura. |
In the center of the main exhibition space, one is immediately drawn to a large circular flat file, accessible from any direction. Custom display vitrines form an outer ring and together these two elements create a single, grand gesture within the simple, double-height space. Three of the perimeter walls are actually full-height flat file storage with two-dimensional works mounted directly over the face of the drawers. Therefore the means of storage also serves as the means of display -- an elegant solution and a tactile reminder to visitors of the precious volumes within. Adjacent to the main space is a working room for researchers, and a mezzanine above where a video loop of interviews with architects plays as part of the Archives' oral history project.
The current exhibition, Towards an Architectural Archive, running until late August, features a selection of works by three Japanese architects all interrelated, directly or indirectly, through their association with Le Corbusier, whose influence on Japan's postwar architecture cannot be overstated. That influence is captured in the print reproduction of Le Corbusier's design for a theater curtain called Taureau 14 (1956). The piece was commissioned by one of Le Corbusier's apprentices, Junzo Sakakura, for use in the Shibuya Pantheon Theater within his project Tokyu Cultural Center (Tokyu Bunka Kaikan, built in 1955, demolished in 2003). Based on Le Corbusier's design as interpreted by Sakakura, the piece was fabricated in Japan by Kawashima Selkon Textiles Co. Ltd. employing traditional Nishijin-ori techniques -- a cross-cultural, cross-discipline collaboration for the ages. The original 10 by 24 meter Taureau 14 curtain was used in the Pantheon Theater for 47 years until its closing in 2003. After that it was kept in storage by Tokyu Group until they donated it to the National Archives of Modern Architecture earlier this year. Original drawings of Sakakura's better-known works, such as Shinjuku Station and the much-loved main building of the Museum of Modern Art, Kamakura & Hayama, are also on display. (Ironically the latter is now under threat of demolition.)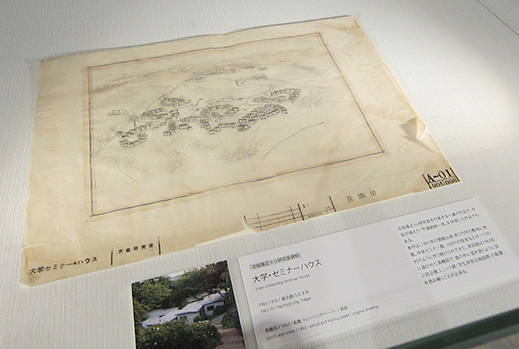 Original rendering of the concrete cabins at Inter-University House, by Takamasa Yoshizaka (1965).
Takamasa Yoshizaka was also an apprentice of Le Corbusier. After working on projects for him in France and India, Yoshizaka returned to Japan to help oversee construction of the National Museum of Western Art in Tokyo with Sakakura and Kunio Maekawa. After that period Yoshizaka became a professor at Waseda University and founded the architectural design group Atelier U. His entire comprehensive collection of models, original drawings, and other materials was held by his family and atelier after his death in 1980, but now much of it has been handed over to the Archives to be examined, digitized and stored. His original hand-drawn plan for the 1956 Venice Biennale Japan Pavilion and the Inter-University Seminar House and adjacent cabins in Hachioji (1965) are on display.

Yoshizaka translated many of Le Corbusier's writings from French, making them available to Japanese speakers for the first time, and in the process ensuring that Le Corbusier's influence would continue to be felt here for generations. While works by Le Corbusier's third apprentice, Kunio Maekawa, are not included in Towards an Architectural Archive, there is a section devoted to Masato Otaka, one of Maekawa's apprentices. Born in 1923, Otaka is one of the last living founders of the Metabolist movement. He is perhaps best known for the Motomachi and Chojuen high-rise apartments in Hiroshima and City on the Sea (Plan for Tokyo Bay). Beautiful, painstakingly rendered original hand drawings of both projects are on display.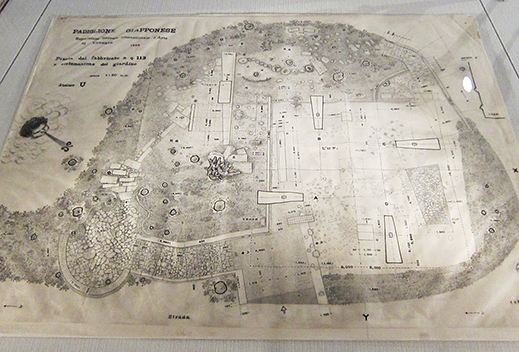 Plans for the 1956 Venice Biennale Japan Pavilion by Takamasa Yoshizaka; notice the adorable prevailing winds cartouche on the left side.
Important works of modern architecture are frequently threatened by development. Likewise it can be difficult to convince the public that there is value in something that is only slightly old, rather than ancient. The late architectural historian Hiroyuki Suzuki made it his life's work to establish the National Archives of Modern Architecture. He saw the Archives as precisely the kind of place where the work of saving architectural culture occurs. In his writing he pointed out that ". . . the cost of collecting architectural documents is far less expensive compared to actual architectural repair work . . . For example, the restoration project for [the] Tokyo Station building that was recently completed cost approximately 50 billion yen; compared to that, establishing and operating this archives is miniscule. Yet, architectural drawings and documents are indispensable for executing actual architectural repair work . . ." There are many works of modern architecture that cannot be preserved physically or in their original context, but Suzuki passionately held that "coexistence between old and new is a requisite for a city."
| | | |
| --- | --- | --- |
| | | |
City on the Sea, Plan for Tokyo Bay (1959) by Masato Otaka.
A close-up of the painstaking hand-hatched tone, an all but lost art.

All photos by Nicolai Kruger with the permission of the National Archives of Modern Architecture.
Nicolai Kruger, AIA


Nicolai Kruger is an architect managing international projects at Pelli Clarke Pelli Architects, Japan. She has been living in Tokyo since 2006. She received her BFA in Design at Cornish College of the Arts in Seattle, followed by her Masters of Architecture at the University of Oregon. Her principal areas of interest include mixed-use, temporary structures, exhibition and lighting design.