Focus features two in-depth reviews each month of fine art, architecture and design exhibitions and events at art museums, galleries and alternative spaces around Japan. The contributors are non-Japanese residents of Japan.

The Poly-Creatures of Izumi Kato: Paintings and Sculptures at Two Hara Museums


Susan Rogers Chikuba
Designed by Jin Watanabe, the Hara Museum of Contemporary Art is a rare gem of prewar modernist architecture in Tokyo. Its sister facility, by Pritzker Prize laureate Arata Isozaki, is Hara Museum ARC in Shibukawa, Gunma (see last photo below).
At once vegetal, animal, mineral, and extraterrestrial, the poly-creatures of Shimane-born painter and sculptor Izumi Kato are out in force this fall and winter. Meet them through 13 January 2020 in Izumi Kato -- Like a Rolling Snowball, concurrent solo shows hosted by the Hara Museum of Contemporary Art in Tokyo's Shinagawa Ward and Hara Museum ARC in Shibukawa, Gunma Prefecture. The former showcases Kato's recent works, notably those made of stone and fabric, while the latter is a full retrospective uniting the artist's earliest paintings with his wood sculptures, painted rock assemblages, and multimedia figures fashioned of stone, fabric, wood, leather, and soft vinyl.
The composition of the hangings at Hara Museum ARC is as eye-catching as the paintings themselves. "We weren't focused on timelines or themes," a museum spokesperson told me. "The hanging went very quickly. Kato knew just how he wanted it to look." Photo by Yusuke Sato
Kato's humanoids are imbued with a kind of totemic empathy that's simultaneously familiar and strange. Noses flow like cascades or open wounds, hair can seem like fields of golden wheat or the peppercorn swirls on the heads of Buddhist statuary. The artist switched from using brushes to painting with his hands in the late 1990s, preferring the direct, visceral connection of his rubber-gloved fingers working pigment right onto the canvas. "I have no distinct models in mind as I work," he says in a 2016 interview published by his agent. "Human-like characters make for interesting imagery, so I stick with them. But I try to strip away all features that are easily identifiable. At most I'll distinguish whether the figure is anatomically male or female, but not much more."
| | |
| --- | --- |
| | |
| | |
| | Untitled, 2019, acrylic paint on wood and stone, stainless steel. At the Hara Museum of Contemporary Art. Photo by Susan Rogers Chikuba |
Coastal Shimane, where Kato grew up, is part of the ancient province of Izumo -- home not only to Japan's creation myths and their pantheon of gods but also to a rich corpus of ghost stories. As a boy he played among the stones of ancient kofun burial mounds. A robust folklore tradition impressed upon his young mind that the nearby ocean is a chimerical serpent with a female head.
Like the snowball of his shows' shared title, there's no divorcing his work from imagery picked up along the way. But Kato maintains that his creatures are simply the result of his dialogue with material -- what pigments will look right here, how big the eyes should be, how far apart. "I'm not trying to relate any tales, or suggest one idea over another. Ultimately it's up to the viewer to find his or her own meaning. That's more important than anything I can tell you," he insists. Thus most of Kato's works after the year 2000 are untitled, and his painted creatures typically appear alone. "When you populate a canvas with more than one figure, he says, "then you have relationship, and the beginning of a story."
| | |
| --- | --- |
| | |
| | |
| | Untitled, 2011, oil on canvas. At Hara Museum ARC. Photo by Susan Rogers Chikuba |
After art school, where he specialized in oil painting, Kato didn't pursue a career as an artist right away. "I was disillusioned with the idea of art long before I graduated," he says. "The pat insistence on formal methods and technique -- all those charcoal drawings of nudes and faithfully rendered copies of Grecian models, the underlying assumption being that this is the foundation of art. I followed those metrics to pass the entrance exam and get in, but once I did, I spent most of my four years there playing music and pursuing, as best I could, my own kind of paintings." He found inspiration in primitive works and outsider art like that of Jean Dubuffet's Art Brut movement.
A cluster of works from Kato's first solo shows, in the mid- to late nineties. At Hara Museum ARC. Photo by Susan Rogers Chikuba
When he graduated it was the early 1990s, the last days of Japan's bubble economy. Kato was able to support himself by working part-time construction jobs for half of the year; the rest he took off to play drums and paint. "A lot of my friends were producing art, and renting gallery space to do annual exhibitions, so I figured I might as well, too. At those early solo shows I determined to draw using the simplest elements with which any child begins -- lines, dots, and circles." At the time he was mostly using acrylic paints because they were cheap. But as he came back into full relationship with his creative muse, Kato began questioning why he was using them, and for that matter why he was bothering with brushes, too. As he shifted his practice to painting directly by hand with oil pigments, his repertoire evolved from symbolic imagery to human-like forms and faces. It was the new millennium and he had just turned 30.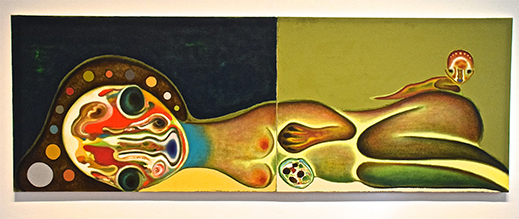 Untitled, 2019, oil on canvas. At the Hara Museum of Contemporary Art. Photo by Susan Rogers Chikuba
Those early paintings are quite different from his present-day, more self-assured ones. But now, as then, Kato aims to keep the relationship between himself and his art as direct and unmediated as possible. If there is an archetypal, timeless quality to his poly-creatures, I'd say it derives from tapping that spontaneous psychic energy as it flows from brain to muscle to surface material. Some of my personal favorites are his figures, rendered both in oil paintings and as piles of painted stones and coral, in fetal position -- like the one above clasping what might be a rock or a primordial egg.
Untitled, 2007, acrylic paint, charcoal, and silicon on wood. At Hara Museum ARC (left). Untitled, 2019, soft vinyl, leather, stainless steel. At the Hara Museum of Contemporary Art (right). Photos by Susan Rogers Chikuba
Kato began woodcarving after 2000 and says its extension of the imagination beyond the linear has helped his painting. "Sculpting is like drawing in three dimensions. I turn to it when I get blocked." He chainsaws camphor wood, then uses a chisel to shape finer parts like the eyes. Soft-vinyl figures made by slush casting, the method used in the mass production of action figures and other hollow toys, are a more recent medium of expression. Most recently he has begun to stitch fabrics and leather and to dabble in lithography, creating composite forms that employ all of these approaches.
Kato offers in his artist statement that the snowball of the exhibition title is a metaphor for life. We move through it picking up earth, leaves, rubbish, and anything else that lies beneath. Up close the result may look dirty, cracked, or lopsided, but from a distance it's a pure white sphere. Eventually the entire creative process melts and returns to earth. "For as long as I call myself an artist," he writes, "I'll keep rolling like this."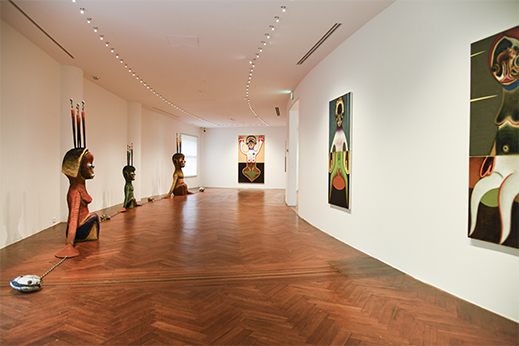 Installation view of Izumi Kato -- Like a Rolling Snowball at the Hara Museum of Contemporary Art. Photo by Yusuke Sato
Though completely different in style, the two museums' architecture is a bonus for anyone with an interest in design. Built in 1938 as the family residence of museum founder Toshio Hara's grandfather, the Hara Museum of Contemporary Art is nestled in the leafy hilltop district of Gotenyama. After surviving the bombings of World War II, it was taken over by U.S. occupying forces for a few years and then served as the embassy of the Philippines and Sri Lanka before it was returned, much the worse for wear, to the Hara family. Toshio refurbished it and launched the museum in 1979, giving Tokyo a vibrant, intimate place for the promotion of international contemporary art.
The building's curved walls and rounded corners, reduced heights, and augmented horizontal lines rendered in concrete are characteristic of the Art Moderne architectural style of the 1930s and 1940s, a machine-age aesthetic drawn from the streamlined forms of ships and airplanes. At the Hara this is softened by wooden floors, translucent glass brick, and earth-toned marble and travertine. The fluid curves and odd geometric crannies of the bespoke estate lend themselves well to the whimsical placement of artworks, a site-specific experience that adds interest to its exhibitions. (At the Kato show, keep an eye out for the artist's smaller creatures nesting among the trees outside, tucked away in the stairwell, or slithering along the baseboards.) Enjoy this unique art space while you can. Citing the building-code constraints and safety issues of an older, repurposed building, the Tokyo Hara will close at the end of 2020, when its holdings will be integrated with those in Gunma.
A little over two and a half hours from Shinjuku by bus, Hara Museum ARC was erected in 1988 and expanded 20 years later. Conceived as the summer branch of the Tokyo Hara, it sits on rolling land in the foothills of Mount Haruna, close by the Ikaho hot springs. Photo via Wikimedia Commons CC BY-SA 4.0
The Tokyo Hara will host a "Meet the Artist" event from 3:00 p.m. on Saturday, 16 November; see the museum website to book a seat. After Kato's Like a Rolling Snowball concludes there will be three or four more exhibitions before this lovely venue closes to the public. Pay it a visit before 31 December 2020, and treat yourself to lunch in the garden.
All artwork shown is © 2019 Izumi Kato. Unless otherwise noted, photos are courtesy of the artist and Hara Museum.
Susan Rogers Chikuba


Susan Rogers Chikuba, a Tokyo-based writer, editor and translator, has been following popular culture, architecture and design in Japan for three decades. She covers the country's travel, art, literary and culinary scenes for domestic and international publications.