Focus features two in-depth reviews each month of fine art, architecture, and design exhibitions at art museums, galleries, and alternative spaces around Japan.

New Kid on the Block: Osaka Welcomes a Long-Awaited Museum


Colin Smith
The Nakanoshima Museum of Art, Osaka opened last month.
Art lovers in the Kansai region have cause to rejoice. A new major museum has opened, fulfilling a promise that remained tantalizingly out of reach for decades.

The year was 1983. Culture Club's "Karma Chameleon" was topping the charts, Cold War tensions were ratcheting up, and Apple Computer announced the release of the Macintosh 128K, while in Japan the economic bubble was still several years in the future. It was in August of that year that the city of Osaka announced plans for the Osaka City Museum of Modern Art. The initial impetus was the gift of the large collection of businessman Hatsujiro Yamamoto, including many paintings by the short-lived but prolific Yuzo Saeki (1898-1928), born in Osaka and active in France. The city subsequently received donations from individuals and institutions and acquired works by important artists from Japan and abroad, amassing a collection of more than 6,000 pieces that went without a home for many years.
| | |
| --- | --- |
| | |
| | |
| | Yuzo Saeki, Postman, 1928. The young artist was hitting his stride with boldly executed works like this, unfortunately one of his last. |
The museum construction plan was repeatedly reviewed, altered, sent back to the drawing board, and reviewed again, for reasons that include the early 1990s collapse of the economic bubble and the city's financial struggles. Finally, in 2013, it was decided that a new museum would be built on Nakanoshima, a centrally located island in one of the city's many rivers, joining The National Museum of Art, Osaka and the Osaka Science Museum right next door. This year, nearly 40 years after the original announcement, the city's collection made its grand debut on 2 February at the new venue, which has been renamed the Nakanoshima Museum of Art, Osaka.
The inaugural exhibition Hello! Super Collection -- 99 Untold Stories presents approximately 400 works selected from the museum's permanent holdings. It is in three parts, the first entitled "Hello! Super Collectors," featuring works from the original Yamamoto Collection and other early acquisitions with a focus on artists with ties to Osaka. Saeki's charming Postman (1928), its ruddy-cheeked subject serving as poster boy for the exhibition, was painted four months before Saeki's death, and its vitality conveys the artist's passion for painting right up to his premature end.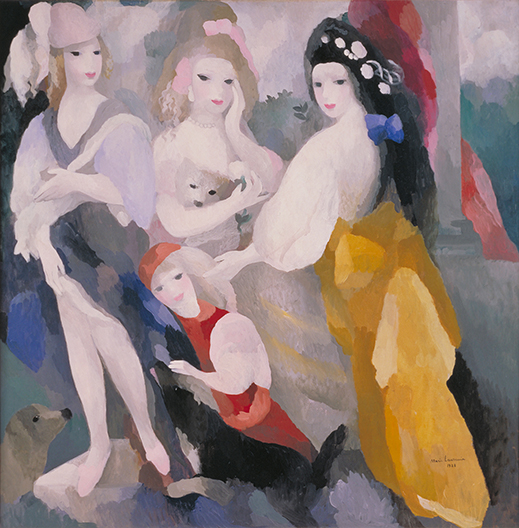 Marie Laurencin, The Princesses, 1928. Something in their expressions recalls the coy beauties of Japanese bijinga -- or the heroines of manga?
Another painting from 1928, The Princesses by Marie Laurencin (1883-1956), was among the first works donated to the museum, helping to build its collection of non-Japanese works. Populated by aristocratic figures with large, mesmerizing eyes, puffy-sleeved gowns, and cuddly puppies, its weightless world seems to prefigure that of postwar shojo manga (girls' comics), and unsurprisingly the artist is a favorite among local audiences.
Yoson Ikeda, Osaka in the Snow, 1928. Much has changed, but this is still recognizably the view to the east of the museum.
It was also in 1928 that a rare heavy snowstorm hit the city and Yoson Ikeda (1895-1988) painted Osaka in the Snow. The scene is of Nakanoshima, and it is fascinating to compare this snowy landscape from over 90 years ago with the island today. A stroll through it before visiting the museum is advised.
Installation view of works by Jiro Yoshihara in the Hello! Super Collection exhibition. Black walls honor the Gutai Pinacotheca, which he launched and which once stood nearby.
At a certain point the gallery walls change from white to jet-black, and the latter are hung with works by Jiro Yoshihara (1905-1972), founder and leader of the Gutai Art Association. This seminal Kansai-based avant-garde group once had its own venue, Gutai Pinacotheca, on Nakanoshima, and its black interior walls are replicated here. The works are in chronological order, tracing the evolution of Yoshihara's oeuvre from early figurative painting to its culmination in his signature large circles.
Amedeo Modigliani, Reclining Nude with Loose Hair, 1917. The artist is amply represented in the Nakanoshima collection, and will have his own show at the museum following this one.
The second part, "Hello! Super Stars," is packed with art by modern and contemporary masters like Modigliani, Giacometti, and Magritte. Among them is a large painting by Jean-Michel Basquiat (1960-1988), who today commands some of the highest prices at auction; a wall panel frankly notes that "the museum was quite lucky to acquire this work early on."
| | |
| --- | --- |
| | |
| | |
| | René Magritte, The Ready-Made Bouquet, 1957. Appropriation of old art, rare for Magritte, creates an unexpected link with a Japanese artist featured in the same section. |
Among the Japanese stars in this section is Yayoi Kusama (b. 1929). Accumulation (1960), one of her "infinity net" paintings, fills four large joined panels with organically undulating red semicircles, and is a prime example of the artist's early style. Another standout is Yasumasa Morimura (b. 1951), born and based in Osaka, well-known for reproducing famous paintings of the past and making himself their protagonists. On display here are Daughter of Art History (Theater A) and Daughter of Art History (Theater B) (both 1989), from a series of staged photographs in which he plays various heroines from the history of art. As always, the effect is both virtuosic and comical. In these two works he faithfully replicates Manet's A Bar at the Folies-Bergère (1882), but in Theater B the artist is nude, the prosthetic arms used in Theater A are exposed, and the complex mechanisms of his method are laid bare. The viewer may never look at Manet's masterwork the same way again. Nearby, a set of Theaters by Hiroshi Sugimoto (b. 1948) produces a contrastingly meditative, minimalist mood.
The Suntory Museum, Osaka, a landmark of the city's bayside area, closed in 2010, and the parent company Suntory Holdings deposited its vast graphic art collection with the city of Osaka as the Suntory Poster Collection. The exhibition's third section, "Hello! Super Visions," presents this collection along with an outstanding lineup of modern furniture. As befits a maker of some of the world's best whisky, the posters include a large number of vintage ads for alcoholic beverages from around the world, all of them (the posters, that is) cheerful and mood-elevating. There are also many works by Henri de Toulouse-Lautrec (1864-1901), among them his iconic Moulin Rouge: La Goulue (1891).
| | | |
| --- | --- | --- |
| | | |
| | | |
Koloman Moser, Armchair, 1903, and Shiro Kuramata, Miss Blanche, 1988/1989. Two of many chairs in the museum's large modern furniture collection.
The furniture collection features numerous iterations of the chair, including Koloman Moser's (1868-1918) geometric Armchair (1903) and Shiro Kuramata's (1934-1991) effervescent Miss Blanche (1988/1989). The former evokes turn-of-the-century Vienna, which features prominently in the collection, and the latter bubble-era Japan.
| | |
| --- | --- |
| | |
| | |
| | Kenji Yanobe, Giant Torayan, 2005. Over seven meters high, he's right at home in the spacious interior. Photo by Colin Smith |
From the outside, the Nakanoshima Museum of Art looks like a giant, nearly-black box, but thanks to a soaring atrium and uniquely shaped and strategically placed windows, the interior is bathed in natural light. Multiple entrances, long sightlines and stunningly high escalators make it feel like a grand modernist hotel, one you'd like to stay at. Standing guard in the atrium is the monumental Giant Torayan (2005) by Kenji Yanobe (b. 1965), another Osaka-born and locally-based artist. Both this adorable post-apocalyptic robo-child and Yanobe's Ship's Cat (Muse) (2021), on the lawn outside, are on permanent display. While the artist is best known for sculptures and projects dealing with nuclear radiation and the "ruins of the future," these pieces are bizarrely delightful, complementing and offsetting the museum's spare and imposing architecture.
The long-awaited opening was on 2/2/2022 (Groundhog Day), and during the exhibition there was a once-in-a-lifetime amped-up "Cat Day" (2/22, pronounced ni ni ni -- Japanese onomatopoeia for a cat's meow -- augmented by the bonus ni's in 2022). This seems to mark an auspicious launch for an impressive new venue that is helping make Nakanoshima a growing hub for art in the Kansai region.
All images courtesy of the Nakanoshima Museum of Art, Osaka.
Colin Smith
Colin Smith is a translator and writer and a long-term resident of Osaka. His published writing includes the travel guide Getting Around Kyoto and Nara (Tuttle, 2015), and his translations, primarily on Japanese art, have appeared in From Postwar to Postmodern: Art in Japan 1945-1989: Primary Documents (MoMA Primary Documents, 2012) and many museum and gallery publications in Japan.